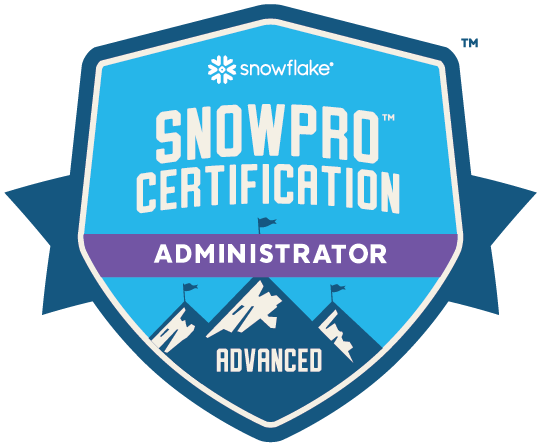 [ADA-CO1] SnowPro Advanced: Administrator Exam Guide
The SnowPro Advanced: Administrator Certification Exam will test your knowledge of advanced concepts and your ability to apply comprehensive data cloud administrative principles using Snowflake and its components.

This certification will test your ability to:
- Manage and administer Snowflake accounts
- Manage and administer Snowflake data security and governance
- Manage and maintain database objects
- Manage and maintain virtual warehouses
- Perform database monitoring and tuning
- Perform data sharing and use the Snowflake Data Exchange and Data Marketplace
- Administer disaster recovery, backup, and data replication

Course Number

CERT-ADMIN-GUIDE

Self-Paced
SnowPro™ Advanced: Administrator Certification Candidate
2+ years of Snowflake Data Cloud Administrative experience, including practical, hands-on experience using Snowflake.
In addition, successful candidates should have fluency with ANSI and Snowflake extended SQL.

Target Audience:
Snowflake Administrators/Snowflake Data Cloud Administrators
Database Administrators
Cloud Infrastructure Administrators
Cloud Data Administrators
Exam Format
Exam Version: ADA-CO1
Total Number of Questions: 65
Question Types: Multiple Select, Multiple Choice
Time Limit: 115 minutes
Languages: English
Registration Fee: $375 USD
Scoring: Scaled score of 750+ on 0-1000 scale
Prerequisites: SnowPro Core Certified
Delivery Options:
Online Proctoring
Onsite Testing Centers
Find more about registration details here. The exam will only be offered through Pearson VUE.
Exam Domain Breakdown
This exam guide includes test domains, weightings, and objectives. It is not a comprehensive listing of all the content that will be presented on this examination. The table below lists the main content domains and their weighting ranges.



1.0 Domain: Snowflake Security, Role-Based Access Control (RBAC), and User Administration
1.1 Set up and manage Snowflake authentication.
Establish and implement federated authentication and Single Sign-on (SSO)
Implement Multi-Factor Authentication (MFA)
Perform key pair authentication and key pair rotation
Configure and use OAuth
1.2 Set up and manage network and private connectivity.
Establish network policies

Establish private connectivity to Snowflake internal stages
Establish private connectivity to the Snowflake service

Use IP address whitelists/allowed lists and blocked lists for access using network access policies
1.3 Set up and manage security administration and authorization.
Use and monitor SCIM
Prevent data exfiltration with PREVENT_UNLOAD_TO_INLINE_URL/REQUIRE_STORAGE_INTEGRATION _FOR_STAGE_CREATION
Manage service accounts, API integration, and automated authentication (e.g., key pair)
1.4 Given a set of business requirements, establish access control architecture.
Access control framework
Securable objects
Describe the uses for, and hierarchy of, system-defined roles (e.g., ORGADMIN, ACCOUNTADMIN, SYSADMIN, SECURITYADMIN, and USERADMIN).
Use an enforcement model
Demonstrate how to grant access to specific objects within a database that requires privilege inheritance
1.5 Given a scenario, create and manage access control.
List and use the different privileges available for each object type in Snowflake
Implement custom security roles and users (e.g., include related SHOW commands)
Audit user activity history and query activity history across a Snowflake account
1.6 Given a scenario, configure access controls.
Use system-defined roles
Create custom roles
Implement inheritance and nesting of system-defined roles
Align usage of object access with business functions
Describe cloned objects and their impact on granted privileges
Designate additional administrators in Snowflake
View granted privileges to users, roles, and/or on objects
Implement and manage future grants, including restrictions and limitations
Evaluate the various scenarios using warehouse grants (e.g., USAGE, OPERATE, MODIFY, MONITOR)
Implement and manage managed access schemas
Manage account-level permissions
2.0 Domain: Account Management and Data Governance
2.1 Manage organizations and accounts.
Describe the benefits of an organization
Describe organizational tasks
Understand account tasks
2.2 Manage organization security and access control.
Follow best practice when using the ORGADMIN role
Compare the differences between ORGADMIN and ACCOUNTADMIN roles
2.3 Implement and manage data governance in Snowflake.
Mask column data in Snowflake
Implement and manage row access policies
Perform auditing of access history
Implement and manage tagging in Snowflake
2.4 Given a scenario, manage account identifiers.
Describe the differences between account names and account locators
Identify when a given account identifier needs to be used
Use region groups
2.5 Given a scenario, manage databases, tables, and views.
Implement Snowflake table structures
Establish and use temporary and transient tables
Establish and use external tables
Implement and manage views, secure views, and materialized views
Outline table design considerations
Outline the use cases when cloning is beneficial
Outline data storage and data retention considerations
2.6 Perform queries in Snowflake.
Use Snowflake sequences
Use persisted query results
Demonstrate the ability to cancel statements for both a single user as well as for other users
Use query history filters including client-generated queries and queries executed by user tasks
2.7 Given a scenario, stage data in Snowflake.
Stage data files from a local file system
Create, manage, and maintain Snowflake internal and external stages
2.8 Given a scenario, manage database streams and tasks.
Outline database tasks and associated use cases
Outline database streams and associated use cases
3.0 Domain: Performance Monitoring and Tuning
3.1 Given business requirements, design, manage, and maintain virtual warehouses.
Outline the impact on billing, data loading, and query processing based on warehouse sizes
Given a scenario, manage warehouse usage in sessions and size the warehouse accordingly
Given a scenario, manage a multi-cluster warehouse
3.2 Monitor Snowflake performance.
Evaluate and interpret query profiles to improve performance

Describe the components of the query profilers
Compare compile versus runtime optimizations
Identify/create efficient queries
Troubleshoot common errors in the query profiler
If data spilling is present, describe its impact and remediation tactics
If data pruning is present, describe its impact and remediation tactics
Describe the various timeout parameters

Use an explain plan
Compare and contrast different caching techniques available in Snowflake and the impact of caching on performance
Implement performance improvements
3.3 Manage DML locking and concurrency in Snowflake.
Follow best practices for DML locking and concurrency
Monitor transaction activity
3.4 Given a scenario, implement resource monitors.
Create, manage, modify, and remove resource monitors based on use cases and business requirements
3.5 Interpret and make recommendations for data clustering.
Configure and maintain cluster keys
Describe micro-partitions, their benefits, and their impact
Retrieve clustering information
3.6 Manage costs and pricing.
Manage organization costs
Forecast and monitor costs and pricing
Describe the use cases for the account_usage and information_schema
Monitor and calculate data storage usage/credit, data transfer costs, data replication costs, and/or warehouse usage/credits
Describe how Snowflake credits are consumed by service layer activities (e.g., Snowpipe, materialized views, automatic clustering, etc.)
Apply techniques for reducing costs
4.0 Domain: Data Sharing, Data Exchange, and Data Marketplace
4.1 Manage and implement data sharing.
Given a scenario, implement sharing solutions and outline any business impacts
Manage data providers and consumers
4.2 Use the Snowflake Data Exchange.
Manage administration and membership
Outline the process of becoming a data provider
Manage data listings
4.3 Use the Snowflake Data Marketplace.
Access Snowflake Data Marketplace to browse listings
Request that new data or a data provider be added to the Snowflake Data Marketplace
Manage listing requests
Manage data listings
5.0 Domain: Disaster Recovery, Backup, and Data Replication
5.1 Manage data replication.
Describe the difference between primary and secondary databases
Replicate database objects
Manage access controls with respect to replication
Perform database replication and encryption
Enable scheduled replication
Outline the database replication processes with respect to the different Snowflake editions
Describe the limitations of database replications
Outline the billing implications for database replication
Outline database replications considerations for:
Perform replication across multiple accounts
Plan and implement disaster recovery and business continuity plans
Implement backup best practices in Snowflake
5.2 Given a scenario, manage Snowflake Time Travel and Fail-safe.
Retention periods
Query historical data
Restore dropped objects
Snowflake edition implications
Storage costs
Recommended Training
We recommend individuals have at least 2 + years of hands-on Snowflake Practitioner experience in an Administrator role prior to attempting this exam. The exam will assess skills through scenario-based questions and real-world examples. As preparation for this exam, we recommend a combination of hands-on experience, instructor-led training, and the utilization of self-study assets.
Instructor-Led Course recommended for this exam:
Administering Snowflake Training
Free Self Study recommended for this exam:
SnowPro Advanced: Administrator Study Guide