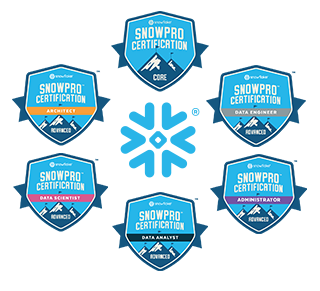 SnowPro Program Policies
Course Number

CERT-PRG-POL

Self-Paced
Candidate Agreement
As a participant of the SnowPro Certification program, you are required to review and accept Snowflake's Certification Terms & Conditions during the registration process. Failure to agree to these terms will not allow you to register for any Snowflake exam.
Recertification
Snowflake is continuously updated so you will need to keep your certification status up-to-date. All Snowflake exams expire after 2 years. To stay current you can do one of the below activities.
SnowPro Core Certification Recertification Options
Sign up for the abbreviated SnowPro Core Recertification Exam and achieve a passing score

Extends SnowPro Core Certification status for an additional 2 years

Sign up for a SnowPro Advanced Certification exam and pass, your SnowPro Core Certification status will roll up with your latest SnowPro Advanced Certification's expiration date

SnowPro Advanced Certification expiration dates do not roll up, each Role Based Certification expires two years after date passed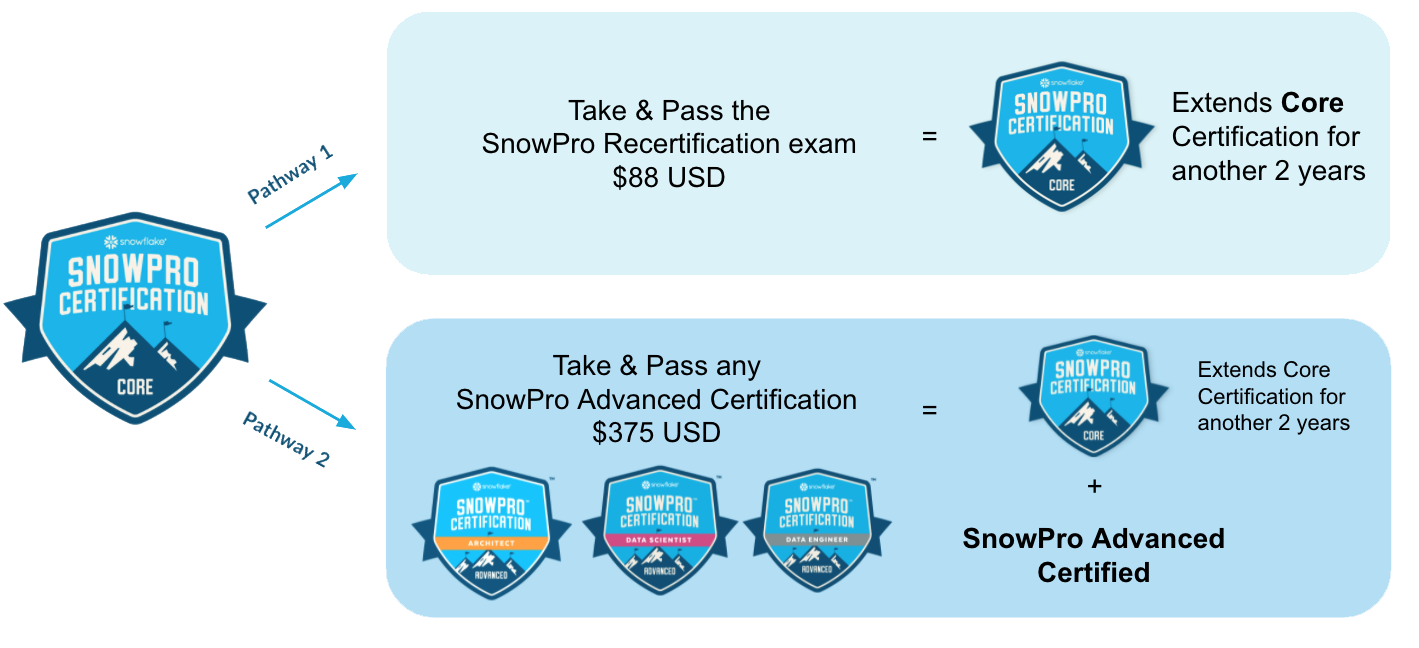 SnowPro Advanced Recertification Options
Each of the Role Based Advanced Certification exams have their own Recertification exam.

For the SnowPro Advanced: Architect, sign up for the abbreviated SnowPro Advanced: Architect Recertification Exam and achieve a passing score.
Extends the SnowPro Advanced: Architect Exam status for an additiona 2 years
Extends SnowPro Core Certification status for an additional 2 years

Exam Policies
EXAM RESULTS
At the completion of the exam, candidates receive an emailed score report that contains important information regarding the outcome of the exam.
If you achieve a pass result
Your transcript will record the exam as pass. You will also receive an email from Snowflake's exam delivery vendor that contains your score. Within 72 hours of passing your exam, you will receive an email from Credly. Make sure to accept your digital badge and set up your verifiable certification.

If you do not achieve a passing result
Your transcript will record the exam as a fail. You will also receive an email from Snowflake's exam delivery vendor that contains your score with scoring feedback. Don't give up; take a look at the training resources and exam guides Snowflake offers for the certification exams.

EXAM RETAKE POLICY
In the event that you fail your first (1st) attempt to pass a Snowflake certification exam, you must wait seven (7) calendar days from the date of your last attempt to retake the exam. In a 12-month period you are allowed to retake a given exam four (4) times during that period. Each exam attempt will require a payment of the exam fee. There are no free retakes or discounts on retakes.

If you have passed an exam and achieved a certification, you will not be able to retake the same exam but should take the shorter recertification exam or an Advanced exam (see Recertifications section). If you allow your certification to lapse and become inactive you will be required to retake the original exam.

Snowflake beta examinations may only be taken one (1) time by each candidate.

If a test is found to be in violation of the retake policy that test will be invalidated and the candidate may be subject to a suspension. If a candidate creates multiple profiles to get around the retake policy, all exams will be invalidated and the fees will be forfeited. Repeat violators may be permanently banned from participation in the Snowflake Certification Program.
BETA EXAM POLICY
Transcripts will remain unscored upon completion of a beta exam. Eight (8) weeks after the beta exam has completed, candidates will receive pass or fail results.
RESCHEDULING AND CANCELLATIONS POLICY
For PearsonVue:
Testing Centers: You MUST reschedule or cancel your onsite testing center registration AT LEAST 24 hours in advance before the scheduled start time of your exam. If you reschedule or cancel within 24 hours of your scheduled exam time, you will lose your exam fee.

Online Proctoring: You may reschedule or cancel your online registration without incurring an additional fee anytime BEFORE the scheduled start time of your exam. All no shows, cancellations, or rescheduling after the exam start time will result in a forfeit of your exam fees.

You may reschedule up to 4 times.

For Exam Registration details and Pearson Vue ID Policies, please navigate here.
Scaled Scoring
Snowflake wants to make sure you are evaluated fairly when you take our exams. One way that we do that is through the use of statistical analysis to set the passing scores. Snowflake uses scaled scoring models to ensure consistency across multiple exam forms, item difficulty levels, and versions. Snowflake uses a scale of 0-1000 with a passing scaled score of 750.

Snowflake Summit Certification Voucher Terms and Conditions
The Purchaser will comply with all the rules and regulations applicable to Snowflake vouchers and promotions. a) Voucher expiration dates cannot be extended under any circumstances; b) Candidates must register and take the exam at Snowflake Summit; c) One voucher is applicable toward one exam registration and is valid only at Summit; d) Snowflake and our exam delivery service provider are not responsible for lost or stolen vouchers; e) Vouchers cannot be redeemed for cash or credit.

Have more questions? Check out our SnowPro FAQs.