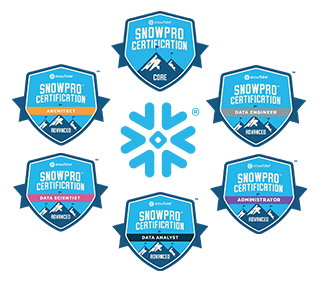 Exam Registration Instructions
Course Number

CERT-EXAM-REG

Self-Paced
Snowflake's SnowPro Certification exams are delivered through Pearson Vue, and can be taken at any of the 1000+ testing centers located globally or remotely in your home with a virtual proctor.

As a participant of the SnowPro Certification program, candidates are required to review and accept Snowflake's Certification Terms & Conditions during the registration process. Failure to agree to these terms will not allow you to register for any Snowflake exam.
Creating an account with Snowflake at PearsonVue (available January 25th, 2022)
Determine if you would like to take your exam in person at a testing center or online. (See onsite proctored or online proctored requirements for additional information.)
Go to PearsonVue and create your account. (Japanese PearsonVue page can be found here )
Review and respond to Pearson Vue's Privacy Policy Acceptance terms
Create a Web Account. Timezone selection will be based on the address entered on your profile.
Once you have created your account, select exam under 'Schedule an exam'
Locate the exam you would like to take and expand the section to view the different exam delivery options.
Select the delivery option, date, and time you want to take the exam. You may choose from Online Proctored or Onsite Proctored. Be sure to review the reschedule and cancellation policy and agree to the Snowflake Certification Agreement.
Follow the payment instructions and click submit.
Note: Pearson VUE Identification (ID) Requirements can be found here. Pearson VUE Japan ID Requirements can be found here.
Can't decide between going into a testing center or taking the exam at home with an online proctor? Check out PearsonVue's helpful resources for test takers here.