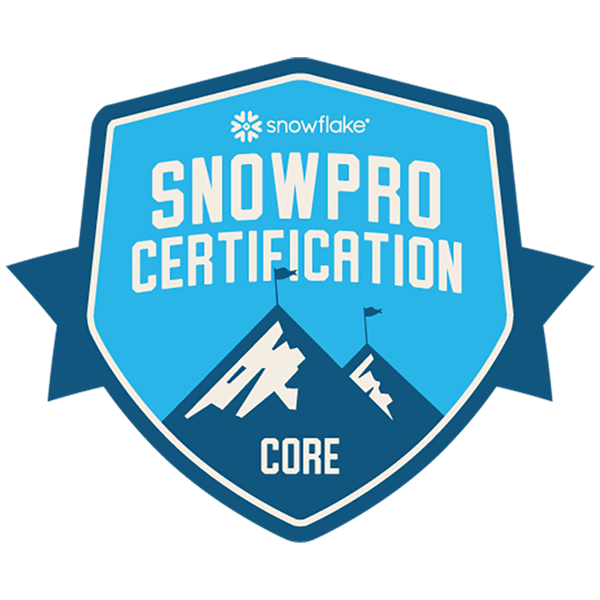 [COF-R01] SnowPro Core Recertification Exam Guide
The SnowPro ™ Core Recertification exam is available for candidates with an expiring SnowPro Core Certification. By passing the SnowPro Core Recertification exam, a candidate's SnowPro Core Certification's status will extend an additional 2 years from the date of passing the recertification exam.
Course Number

CERT-RECERT-GUIDE

Self-Paced
SnowPro™ Core Recertification Candidate
Candidates must hold a valid SnowPro Core Certification at the time they take the recertification exam to be eligible for the SnowPro Core Recertification exam.

This recertification exam shares the same exam guide as the SnowPro Core Certification.

Exam Format
Exam Version: COF-R01
Total Number of Questions: 60
Question Types: Multiple Select, Multiple Choice, True/False
Time Limit: 90 minutes
Languages: English & Japanese
Registration Fee: $88 USD
Passing Score: 750 + Scaled Scoring from 0 - 1000
Unscored Content: Exams may include unscored items to gather statistical information. These items are not identified on the form and do not affect your score, and additional time is factored in to account for this content.
Prerequisites: SnowPro Core Certification
Delivery Options:
Online Proctoring
Onsite Testing Centers
Find more about registration details here.
Recommended Training
As preparation for this exam, we recommend a combination of hands-on experience, instructor-led training, on demand training courses and the utilization of self-study assets.
Instructor-Led Course recommended for this exam:
Snowflake Fundamentals
Paid Self Study recommended for this exam:
SnowPro Core Certification Preparation Course
Free Self Study recommended for this exam:
SnowPro Core Study Guide
Snowflake Hands on Essentials & Level Up Series
Snowflake in 20 Minutes