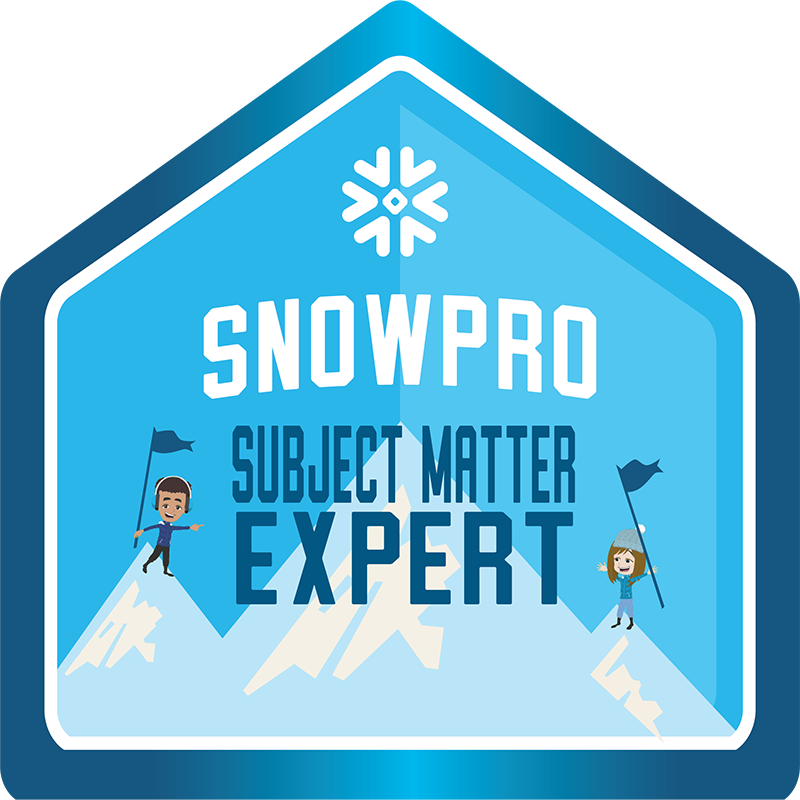 SnowPro Subject Matter Expert (SME) Certification Program
The SnowPro Certification Team is recruiting qualified SMEs to participate in exam development activities for creating and maintaining our certification exams. Our activities focus on the development and review of SnowPro certification content, while maintaining the highest psychometric standards.
Course Number

CERT-SME

Self-Paced
Join the Snowflake SnowPro Certification SME Team!
We welcome global Snowflake practitioners and offer training and support throughout the process. Have you ever wondered how exams are developed and maintained?
Here is your chance to find out!
If you are approved as a SME, you can participate in activities such as:
Creating exam outlines and blueprints
Writing and reviewing exam questions
Establishing exam passing scores
Qualifications to serve as a SME include:
A MINIMUM of 6-months relevant hands-on Snowflake experience for the Core exam OR A MINIMUM of 2-years relevant Snowflake experience for Advanced exams
Fluency in written and spoken English
Holding the certification in good standing to work on existing exams
Holding the Core certification in good standing and an Advanced exam and requisite experience to work on new exams
SME benefits include:
Networking opportunities: Meet fellow SMEs from around the world, work collaboratively, and learn about the latest Snowflake features and services.
Career growth: Gain recognition as a SME adding information about your participation on your social media pages and/or resume. SMEs who participate in multiple activities can earn a SME-only digital badge and have the Snowflake team brag about your contribution to your management team upon request.
SME SWAG: Earn exclusive SME goodies, including wearables, exam vouchers, and personal items by fully participating in Certification activities.
What's the Application Process?
Complete the program application HERE.
All applications are reviewed and approved applicants will be notified by the Certification Team.
Questions? Please reach out to the Certification team here.