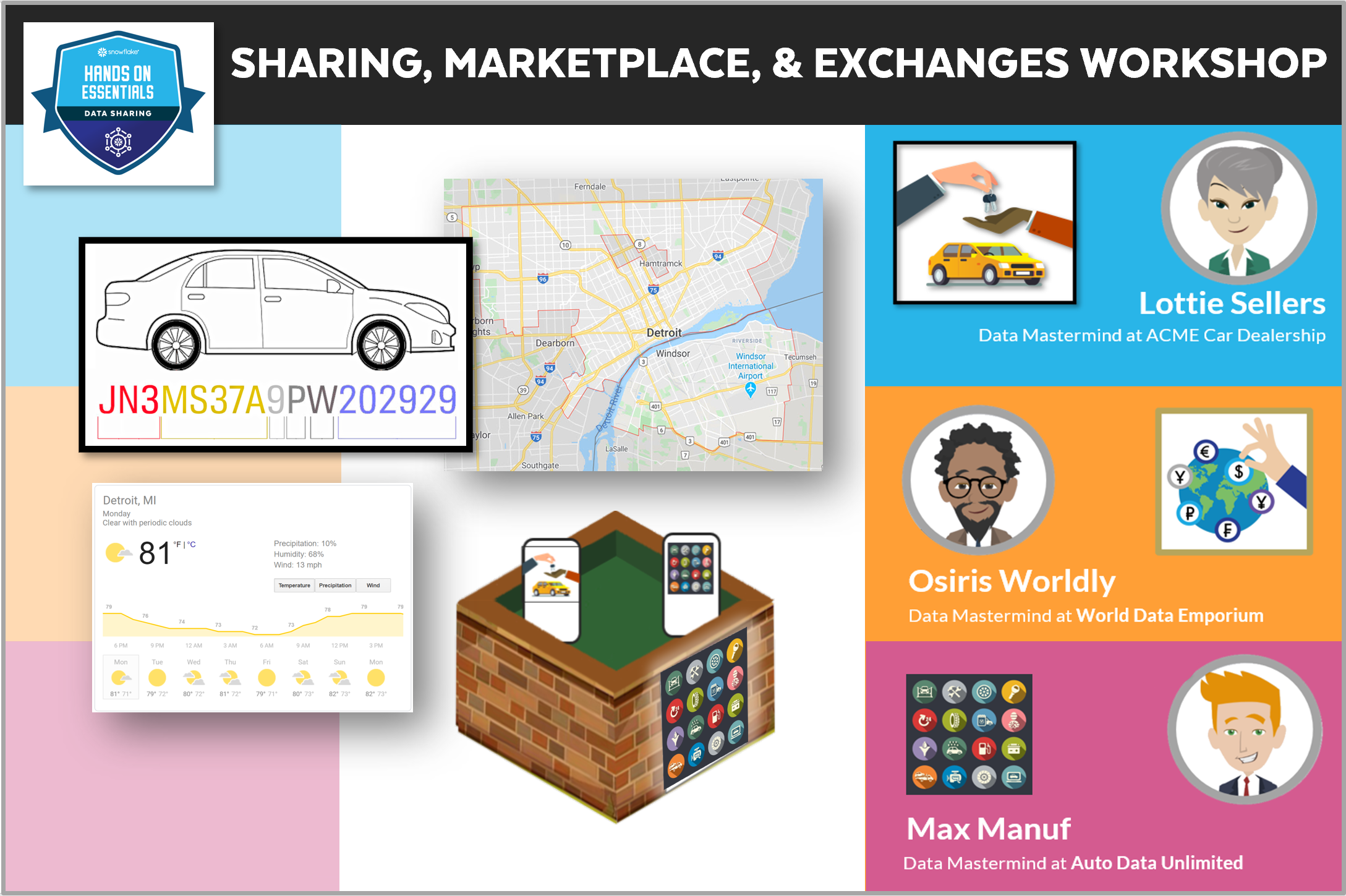 Badge 3: Sharing, Marketplace, & Exchanges Workshop
A course covering Snowflake's revolutionary data sharing technologies. Learn to create and administer direct shares, shop for data sets on the Data Marketplace, and create and manage exchange data listings. Understand how your organization can get rid of nightly extracts and cumbersome ETL processes and possibly monetize your organization's data.
Course Number

ESS-SMEW

Self-Paced
About This Hands-On Workshop
This workshop is the third workshop in the Hands-On Badge Series. In this course, you deep dive into Snowflake's three revolutionary sharing technologies: Direct Sharing, the Data Marketplace, and private Exchanges.
Start by exploring the inbound shares that come with every trial account. Understand how shared and local data can be used together. Create an outbound share and trade shares with other learners for a first-hand look at how easy and instantaneous secure shares really are. Shop for listings on the data marketplace, add a free data set from WeatherSource and combine that data with local data to generate new insights. Understand how your organization's business partners can be given access to your data shares, even if they aren't Snowflake customers using something called a Reader Account combined with Resource Monitors. Observe how two organizations set up a bi-directional Data Exchange they use to send secure data back and forth. Consume shares on their exchange, then tour their solutions behind the scenes.
Prior Knowledge & Experience
We strongly recommmend completing the Data Warehousing Workshop (Badge 1) before attempting this workshop. Many foundational concepts are covered in Badge 1. The course instruction presumes you have completed Badge 1 and does not explain all concepts from the introductory level. We also recommend that you have completed the Data Applications Workshop (Badge 2) before completing this workshop as it gives you additional practice with Snowflake and introduces some concepts that feed into this course.
Hands-On Essentials Series
This course is second in the Hands On Essentials Series. This series allows you to earn a Badge for display on LinkedIn and other social media. The Essentials Series uses active learning principles to give you a fast-paced, hands-on experience. Short videos, step-by-step labs, reflection questions, and challenge labs work together to build your knowledge and skills as you build a solution.
Scenario Based
We meet Martin Rojas who works for World Data Emporium alongside Alinta Wenitong. Martin and Alinta are hoping to move their business partners to Snowflake Accounts so they can stop midnight fire drills when their file extracts don't get delivered as planned. We also meet Lottie Sellers, the Chief Data Strategist for ACME Car Dealership in Detriot, MI, USA. Lottie is considering a move to Snowflake when she hears that she can stop receiving extracts and get always-up-to-date data shares instead.
Grading
To complete the workshop you will watch videos, answer questions, and complete labs. You will also develop a fictional data sharing company and develop listings for your peers to view in a private exchange. You must develop a simple, specific, original data sharing company and data set concept. This course is not suitable for learners who want to be given exact step-by-step instructions for every task. Badge earners are equipped to to advise managers on how any organization can join the data cloud, save money on data sharing, monetize data, and operationally manage data sharing requests.
Lab Environment
Don't sign up for a trial account until you are given step-by-step instructions within the course flow.