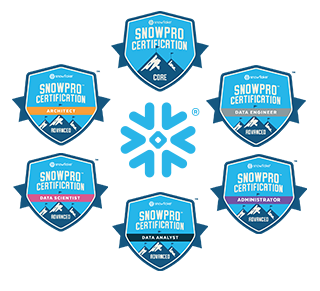 SnowPro FAQs
Below you will find frequently asked questions about Snowflake's Technical Certifications, the SnowPro Certifications. For specific information on each certification Snowflake offers, please visit https://www.snowflake.com/certifications/.
Course Number

CERT-FAQ

Self-Paced
Ready to start studying? Get started here.
Download and use the SnowPro Exam Study Guides
Each SnowPro Certification exam has a correlating study guide that provides direct links to resources for topics covered on the exam. The study guides are located on Snowflake University.
https://learn.snowflake.com/
Watch courses on-demand
Snowflake offers both free and paid on-demand training covering Snowflake concepts.
https://training.snowflake.com/courses
Enroll in one of Snowflake's Instructor-led training courses
Instructor-led training will help you advance your Snowflake skills while you learn Snowflake best practices and complete hands-on labs.
https://training.snowflake.com/
Review Snowflake Documentation
Provides Snowflake overviews, tutorials and detailed references.
https://docs.snowflake.com/en/
Register for Snowflake Webinars
Need technical help? Attend and ask your questions at a Snowflake Webinar. Webinars are a great way to get up to speed on everything Snowflake.
https://www.snowflake.com/about/webinars/
Read through Snowflake Resources
One-stop shop for Snowflake publications, including case studies, articles, white papers and migration guides.
https://resources.snowflake.com/
Visit the Snowflake Lodge Community
Engage in in-depth discussions about Snowflake.
https://community.snowflake.com/s/
Registering for SnowPro Certification Exams FAQS
Where do I register for the exam?
Step by step requirements for registering for a SnowPro Certification exam can be found
here.
How much does the exam cost and how many attempts do I get?
The SnowPro Core Certification cost is $175 (per exam attempt). Every individual registration will require the full $175 USD amount.

The SnowPro Advanced Certification series is $375 (per exam attempt). Each individual registration will require the full $375 USD amount.
Am I allowed to access test aides during the exam?
No test aides of any kind are allowed during your testing session. Your testing space must be free of resources including but not limited to external monitors, paper, writing instruments, notes, devices, wearables, food, and/or liquids. Please review the
Snowflake Certification Exam Terms & Conditions
and
Pearson Vue OnVUE
for more information.
Online Proctoring or Test Center Onsite testing, which should I choose?
There is no content variation between the online proctored and onsite testing center exams. You can choose where to take the exam based on your personal preference.
The Online Proctoring environment allows you to take the exam from the location of your choice such as your home or office. You will use your own computer for the exam in a locked down browser. A proctor will monitor you via screen-sharing applications and your webcam (either internal or external camera). You must have the ability to install software in order for an online exam to launch.
PearsonVue Online Proctoring requirements can be found
here.
Testing centers are facilities operated by Pearson Vue, our exam delivery vendor. A computer will be provided onsite at the testing center and staff will assist with your check-in process including storing your belongings. Onsite proctoring requirements can be found
here
.
Are there any discounts available for SnowPro Certification exams?
Snowflake only offers bulk purchase discounts for voucher orders greater than 49+ exam vouchers.
If you are interested, you have two options:
You can purchase SnowPro Vouchers directly from the
SnowPro Certification Store.
You can reach out to your Sales Rep to help with next steps or submit an inquiry
here
.
If you do not pass an exam, you can take it again after 7 days (4 times in a 12 month period). In this 7 day waiting period, we recommend you take that time to further your learning and education through on demand public Snowflake training and study concepts that you may have struggled with during the exam. You can find exam guides
here
, don't forget to check out the listed SnowPro Tips.
Full payment is required each time you attempt the exam.
Is there a limit on how many times someone can fail a SnowPro Certification?
After three (3) attempts, we recommend that you attend one of the onsite Snowflake training courses. There is a limit of 4 attempts in a 12 month period.
How many times can I reschedule my exam?
You are only allowed to reschedule up to 4 times before you are asked to cancel your exam.
Make sure to review Snowflake's Reschedule and Cancellation policies that can be found
here
.
Who do I contact if I run into an issue with registering, scheduling, or taking an exam online?
SnowPro Certification Store - Purchase Exam Vouchers
I'd like to purchase multiple exam vouchers for my employees, where can I do this?
You can purchase exam vouchers for your employees through
https://snowflakestore.pearsonvue.com/
. Upon purchasing, exam vouchers will be delivered directly to your email within an hour and will be accessible under your login. This portal will allow you to see which voucher codes have been redeemed or are open to be used.
What are my payment options for the SnowPro Certification Store?
Credit card payments and Line of Credit (LOC) are accepted through the store. Line of Credit will require pre-approval and your order will need to meet a minimum order total. Please contact
[email protected]
for additional information on Line of Credit (LOC).
How do I get a Line of Credit (LOC) with PearsonVue?
I already have a Line of Credit (LOC) with PearsonVue? How do I use this for Snowflake's voucher store?
Will I be able to manage my vouchers through the store?
You will be able to see a voucher's expiration date as well as whether or not it has been used. This can be found on the "My Account" tab and clicking "View Voucher Codes" under the order. Note, it may take up to 24 hours after you have completed your purchase before this is available for you to preview.
I need an invoice or receipt for this purchase, will that be available?
Yes, when you complete your purchase, you will be able to access your invoice from the 'My Account' tab.
I'm running into an issue with the Store, who can I contact?
Reschedule & Cancellation FAQS
Can I reschedule my exam if I cannot make my scheduled appointment?
If you need to make any changes to your scheduled exam, please log into your account and reschedule prior to your exam.
Make sure to review Snowflake's Reschedule and Cancellation policies that can be found
here
.
For PearsonVue
Candidates can reschedule and cancel their exams on their Pearson Vue portal.
Make sure to review Snowflake's Reschedule and Cancellation policies that can be found
here
.
What happens if I do not show up for my scheduled exam time?
If you fail to show-up for your scheduled exam appointment you will forfeit your exam fee and/or applicable voucher. In cases where an emergency situation has occurred (medical or a death) please submit a case
here
. Each case must have appropriate documentation in order to apply for a rescheduled appointment exception.
Preparation for the SnowPro Certification Exams FAQS
Are Sample Exam Questions available?
Sample exam questions can be found in exam study guides. Find study guides on the main
SnowPro Certification
page.
These questions represent questions from prior exams and are indicative of the question format. The scope and content of future exams will evolve, and these questions may not reflect updated topics or the level of detail called upon for future exams and are provided for informational purposes only. Successfully answering these questions is not indicative of your ability to pass the actual certification exam.
Where can I find additional information about Snowflake Instructor Led Courses?
Is training required in order to attempt the SnowPro Certifications?
We recommend that Customers and Partners attend the Snowflake Instructor Led courses as part of their exam preparation, but it is not a prerequisite.
Are there any On Demand courses available for SnowPro Certifications?
Check out the exam preparation course tailored to questions covered on the SnowPro Core Certification, available through
Snowflake's Training portal
.
SnowPro Certification Result FAQS
How is my score reported?
Snowflake uses scaled scoring. Your scaled score is a conversion of the numbers you answered correctly on your exam form to a consistent standard scale.

Scaled scoring allows for consistent interpretation of scores across multiple exam forms based on statistical processing. Snowflake uses multiple exam forms to replace questions as needed and to preserve the security of our exams. As exam forms consist of different questions and may vary in difficulty, the forms are statistically equated to ensure candidates are all held to the same competency standard.
Will I receive any feedback on my score report?
Candidates who fail a Snowflake exam will receive a report with a list of objectives that the candidate incorrectly answered one (1) or more questions towards. Please reference the correlating exam guide to review any objectives or any sub-content.

Candidates who pass will not receive any diagnostic feedback.
I took a beta exam, when will I receive my results?
During the BETA, Snowflake gathers performance statistics on each question presented on the exam and uses these statistics to set the certification standard for the public launch of the exam. Candidates will receive their scored report when the certification standard is decided (8-9 weeks after BETA close).
I failed my exam – how can I use the score report to prepare for a retake?
The score report will provide a list of objective areas that map to a question or questions that were answered incorrectly on the exam. We recommend using this list of objectives as a method to identify areas to focus your study and preparation on.

The topic weighting for each exam can be found in its associated Exam Guide.
SnowPro Recertification FAQS
What are my options for SnowPro Core Recertification?
Sign up for the abbreviated SnowPro Core Recertification Exam and achieve a passing score before your certification expires. Passing the Recertification exam will extend the SnowPro Core Certification status for an additional 2 years.
Sign up for a SnowPro Advanced Certification exam and pass, your SnowPro Core Certification status will roll up with your latest SnowPro Advanced Certification's expiration date. SnowPro Advanced Certification expiration dates do not roll up, each Role Based Certification expires two years after date the certification was awarded.
What are my options for SnowPro Advanced Recertification?
Each SnowPro Advanced Role Based Certification will have its own Recertification exam.

For any SnowPro Advanced exam, you can sign up for the abbreviated Recertification exam and achieve a passing score before your certification expires. Passing the Recertification exam will also extend your Core Certification status for an additional 2 years.
When will my expiration date on my Certification be updated?
Certification expiration dates should be updated within 1 week of your pass date.
What is the cost of the SnowPro Recertification exams?
Registration fee for the SnowPro Core Recertification exam is $88 USD.

Registration fee for the SnowPro Advanced Recertification exam is $188 USD.
Credly: SnowPro Digital Certification FAQS
When will I be receiving digital proof that I have passed the Snowflake Certification Exam?
Snowflake partners with Credly to provide verifiable badges of your certification. Credly enables you to manage, share and verify your competencies digitally. Your badge will be issued and managed through Credly's Platform and sent to you via email.
How will I know if I've earned a badge?
You will receive an email notification within a few hours from passing the exam with instructions for claiming your badge and setting up your account.
How do I verify my Certification?
Digital Certification badges are issued by Credly, to verify your certification, click on your badge link and click the 'verify' button on the top right.
How do I opt in or opt out of the Certification Verification Portal?
You will receive your digital badge via email and you will choose whether or not to share your SnowPro Certification badges. You can easily configure your privacy settings in the Credly platform.
What's to keep someone else from copying my badge and using it?
While badges are simply digital image files, they are uniquely linked to data hosted on the Credly platform. This link to verified data makes them more reliable and secure than a paper-based certificate. It also eliminates the possibility of anyone claiming your credential and your associated identity.
Where and how can I share my badge through Credly?
You can share your badge directly from the Credly platform to LinkedIn, Twitter, and Facebook. You can also share the badge in email, imbed it in a website, or add it to your email signature. Badges can be downloaded and imbedded anywhere online.
Can I export badges issued through Credly to other badge-storing platforms?
Yes. Your downloaded badge contains Open Badge Infrastructure (OBI) compliant metadata embedded into the image. This allows you to store your badge on other OBI-compliant badge sites, such as the Mozilla backpack.
Can I import badges issued from other platforms into Credly?
Not at this time.
Where can I receive a certificate form of my digital Certification?
For a certificate version of the exam, you can follow Credly's instructions
here.
I have a question about the Credly platform. Where can I find support?
For Credly support, please navigate
here.
SnowPro Practice Exams FAQS
What can I expect from taking a SnowPro Practice Exam?
A Snowflake SnowPro Practice Exam is an assessment built using the same specifications and domain weightings as the actual SnowPro Certification Exam. These practice assessments are made of sample questions similar to those that will be found on the actual SnowPro Certification Exams. To review the current exam formats and domain breakdowns for each SnowPro Certification Exam, please navigate
here.
How do I register to take a SnowPro Practice Exam?
What is the format of a SnowPro Practice Exam?
All practice exams include 40 questions delivered within a 65-minute period. The question types on the exam will include Multiple Choice (one correct response) and Multiple Select (two or more correct responses). The practice exams are only available in English at this time.
What is the cost of a SnowPro Practice Exam?
All practice exams cost $50 USD.
How will the SnowPro Practice Exam be delivered?
Snowflake's Practice exams will be delivered unproctored through Pearson VUE. Once purchased, you will have 24 hours to access the practice exam. You are only able to take this exam once and cannot retake it once you have submitted it for scoring. If you do not access the exam within this 24-hour window, you will forfeit your registration fee and will need to repurchase the exam. No exceptions will be granted.
What will the experience be like to take a SnowPro Practice Exam?
Once you have registered for an exam, you will have 24 hours to complete the exam. No scheduling will be required as you can launch the exam on demand. These exams are best taken using a high-speed internet connection as you will not be able to "pause" the 65-minute timer during your experience. Similar to the Certification Exams, you will be able to flag questions for review and offer feedback on questions. However, any time spent reviewing questions and writing comments counts as part of your overall exam time.
If I do well on a SnowPro Practice Exam, am I guaranteed to pass the actual SnowPro Certification for the same exam series code?
No, taking this exam does not guarantee success on the Certification exam and should be used to supplement a comprehensive test preparation strategy. No grades or pass/fail outcomes will be provided for Practice exams however you will be able to see how many questions you answered correctly out of 40. For any areas of the exam blueprint where you incorrectly answered one or more questions, you will be able to review these knowledge gaps on your customized score report.
How will score reports be delivered for SnowPro Practice Exams?
Your score report will be made available AFTER your exam is submitted, through your Pearson VUE candidate account. The report will only be reviewable from your Pearson VUE Candidate account (not Snowflake's Certification Portal). All score reports will be uploaded within 24-hours of exam completion.
Which SnowPro Practice Exams are available now?
The following practice exams are currently available:

Practice Exam: Core (Exam Series Code COF-P02)
Practice Exam: Architect (Exam Series Code ARA-P01)
Practice Exam: Data Engineer (Exam Series Code DEA-P01)
Practice Exam: Administrator (Exam Series Code ADA-P01)

All remaining practice exams will be released later on in 2023.